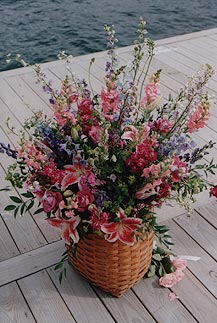 Finishing Touches is located in the heart of Bolton Landing, New York. Open year round, Finishing Touches is the premier floral designer in the upstate area. For more than 20 years, Susan and Peter Cady have been creating remarkable floral arrangements to match your style and taste. We would be honored to provide you with a more detailed overview of our services. Fill your event with a lifetime of beautiful memories. Please contact us at 518-644-3411 for more information.

Our Philosophy
At Finishing Touches we believe that floral design should not only capture the spirit of the day and the event, but also capture the essence of those hosting it, the fundamental nature of the venue in which it is held and touch the spirit of all in attendance.

We use only the freshest flowers and effects-hand chosen and tailored expressly for your personality, occasion and setting. We are here to attend to your needs and will do everything we possibly can to create for you an enchanting, memorable day in collaboration with unforgettable and imaginative floral designs.

The Studio
Finishing Touches is a private design studio exclusively providing beautiful flowers and comprehensive servicing for weddings, events and interior applications.

As a custom floral design studio, we are free to attend personally to your event without distraction, using only the freshest flowers which are hand-selected and tailored for your needs. Our predominant design is rich and textural, combining an imaginative and uncomplicated formality with a European-style garden flair. To treat you to the unexpected we typically search out unanticipated elements to create original designs exclusively tailored for your occasion and setting.

We consider it an honor to work with you to create the ambiance and design you will remember forever. Finishing Touches is one of the leading floral designers for corporate and private events in Upstate New York. Whether you are planning a wedding, early evening cocktail party, corporate event, or an intimate dinner party with friends, Finishing Touches offers complete design consultation and service.

Interior Design & Holiday Décor


Decorating Fine Homes Throughout Upstate New York for over 20 years.



Make the most of your time with family and friends with fabulous interior floral design and holiday décor. Finishing Touches offers the same comprehensive design service and attention to detail that we do for larger events and weddings. We will consult with you in your home and customize a design plan based on our interview that will compliment you interior spaces and exhibit your personal taste.

Finishing Touches will carefully choose materials that will retain the architectural and interior design style of you home. We only use the finest silk and artificial materials as well as fresh flowers that are tailored specifically for your home, personality, lifestyle or intimate event needs.

Consultations by appointment

We request that holiday design plans be booked before November 10th if possible. Thank You.

Intimate Event Coordinating
Finishing Touches provides fresh, contemporary flowers and decorations for all parties and special occasions. Make the finest impression on your guests- and make it look simple with the help of Finishing Touches. Finishing Touches will take care of the essentials so you can enjoy the company of your guests.



Consultations by appointment.





Contact us at (518) 644-3411



Corporate Event Design & Décor
A spectacular event is like a perfect recipe. It is the combination of professionalism, experience and creativity. Finishing Touches would like to be your corporate event design and décor-planning partner.



Consultations by appointment.