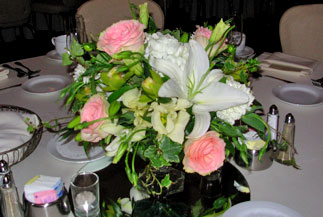 How to Plan Your Floral Budget
A good rule of thumb for planning your wedding floral budget is to plan on spending up to about 15-20% of the total wedding cost- or put another way- about $12-$30 per person invited will giver you from you traditional necessities to an all-encompassing wedding/event design plan. The large disparity is due to variation in taste, season, and floral and venue décor choices.

You will receive a detailed written proposal, and our assurance that your wedding dollars will be utilized with the same diligence that we would want for our own wedding or event- assuring you a great value for you wedding floral dollars.

General Pricing Guide
Here is a rough idea of what you could expect to pay for each item to help you plan your flora design budget. Finishing Touches is always willing to accommodate your needs and budget. Most important to us is that you are satisfied. Each wedding is priced separately.

The Bridal Party
Bride: $100-$250
Maids: $75-$125
Flower girls/Jr. Maids: $35-$65
Flower girl head wreaths: $35 and up
Boutonnieres: $12.50 and up
Corsages: $20.00 and up
Bridal Veils: Call for quote

Ceremony
Simple pew bows: $12-$20 each
Pew Bows or other pew décor with flowers: $35 and up
Larger Chuppah/Altar Arrangements: $200 and up

Reception
Centerpieces: $55.00 and up
Tall candelabra type pieces: $150 and up
Cake Flowers: $35 and up
Cake table greens: $35
Cocktail Tables: $15-$65

Delivery and installation charges apply.
Set up may be extra at those events requiring a lot of extra time to coordinate displays, and where whole atmosphere displays will be created and will be prices out accordingly. Rental items are also available.

Also available are favors, great gift bags, rehearsal dinner flowers.

At Finishing Touches, we will work with you to realize your wedding dream. Contact us today for more information.